I am doing some time and I'm looking for good people in my life. I've left everyone from my old life behind. I need someone who will support me, uplift me, put a smile on my face and help me through my time. I'm very optimistic and genuine. I'm talkative and playful, happy by default. I love the thought of networking with people and meeting people I may have never met before. I'm an open book and not defined by my mistakes. I love knowledge and spend almost all my time working and when I'm off, I work out and am outside.

I am able to do video visits & email. I grew up in Florida, I'm a beach baby, but I've spent the past 10 years or so in Oklahoma City. I'm on my own and can't wait to be back in the world, where I can spread my wings and show the world what I'm made of. This time has taught me a lot – about what I want, what I don't, and who I am. I believe everything happens for a reason, even if at the moment, I'm not sure what the reason is. I modeled for a few years when I was a teen. So, I'm a girly girl, but I like to get my hands dirty. I love to laugh and the intimacy through writing is old fashioned and something forgotten.

It's nice knowing someone takes time out of their day to think about you. So here I am...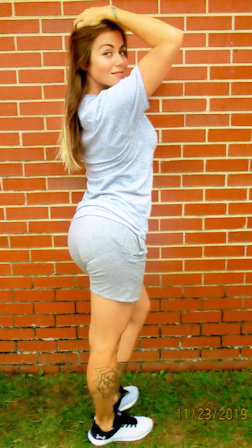 Jessica Miller #31693-064
Federal Correctional Institution
P.O. Box 5000
Tallahassee, Florida 32314



Race: White
Date of Birth: 11/26/1986  
Height: 5'8"
Earliest Release Date: 10/1/2023
Maximum Release Date: 2024
Religion: Lutheran but open
Would you like letters from both sexes? Yes
(This does not refer to sexual orientation) 
Education: Some college
Occupation before prison: Homemaker & Scale Clerk Recycling Plant
Activities in prison: Work doing electric & HVAC, Working out & Nutrition
Can you receive and send emails: Yes, via www.corrlinks.com